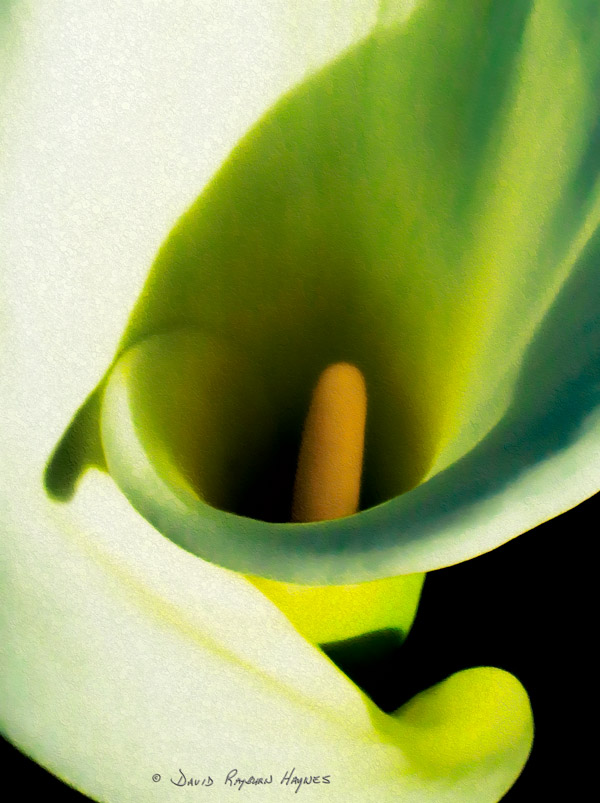 Calla Lily Heart
A closeup photograph of a calla lily.

The photograph was transformed into a digital painting using Adobe® Photoshop®. A detail of this digital painting will be displayed when your cursor is over the image. The full painting will re-display when your cursor moves away. (Touchscreen: touch the full painting image to display the detail image, touch outside the detail image to re-display the full painting.).
A Note on Image Quality:
To facilitate speedy page loading the images presented on this site have been greatly reduced in size from the originals, with a maximum width of 600 pixels. These reduced resolution images will not display the fine details present in the originals. Some of the images on this site will include a close-up of a portion of the image, providing an example of the fine detail. Instructions on viewing the close-up will accompany these images.
A Note on Site Navigation:
The Navigation Buttons directly below the Site Banner provide access to a page listing the EXHIBITS in the Gallery, a page with links to the site ARCHIVES, a page with instructions on how to PURCHASE prints, a page with NEWS and views, a page with information ABOUT the artist and the site, and a page with LINKS to related or interesting sites. The Site Banner at the top of each page is also a link back the the current WELCOME PAGE.