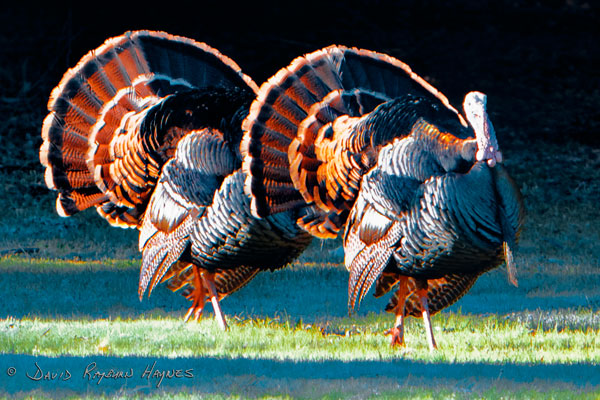 Showing Off
This picture of wild turkeys was taken while camping at Coyote Lake Harvey Bear Ranch County Park, near Gilroy, California. Flocks of 50 or more turkeys came by almost every morning with the males fanning their tails to impress the females.

This image is also included in a new Gallery Exhibit titled CAMPING AT COYOTE LAKE (Episode 1) featuring photographs taken during a camping trip.
A Note on Image Quality:
To facilitate speedy page loading the images presented on this site have been greatly reduced in size from the originals, with a maximum width of 600 pixels. These reduced resolution images will not display the fine details present in the originals. Some of the images on this site will include a close-up of a portion of the image, providing an example of the fine detail. Instructions on viewing the close-up will accompany these images.
A Note on Site Navigation:
The Navigation Buttons directly below the Site Banner provide access to the EXHIBITS in the Gallery, a page with links to the site ARCHIVES, a page with instructions on how to PURCHASE prints, a page with NEWS and views, a page with information ABOUT the artist and the site, and a page with LINKS to related or interesting sites. The Site Banner at the top of each page is also a click-able link back the the site HOME PAGE (this page).