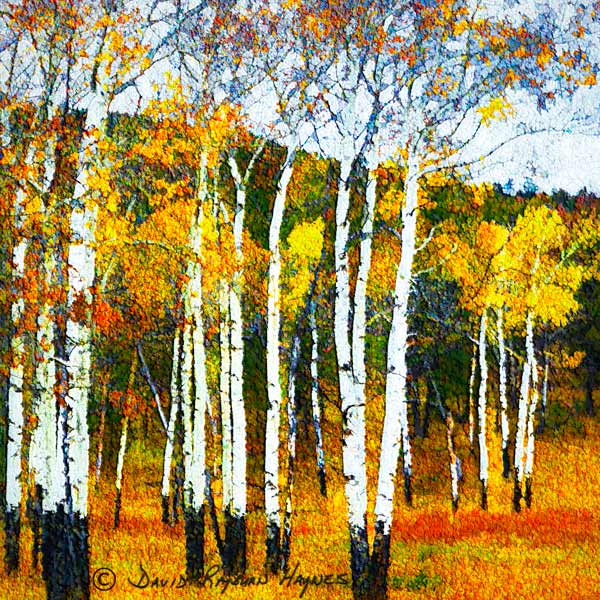 ASPEN STAND FALL COLORS
A painting of aspen trees with white bark accentuated by dramaitic fall colors.

A new EXHIBIT titled NOW SHOWING AT WRIGHT'S contains additional images.

Giclée and acrylic on canvas, 24" X 24"
A Note on Image Quality:
To facilitate speedy page loading the images presented on this site have been greatly reduced in size from the originals, with a maximum width of 600 pixels. These reduced resolution images will not display the fine details present in the originals. Some of the images on this site will include a close-up of a portion of the image, providing an example of the fine detail. Instructions on viewing the close-up will accompany these images.
A Note on Site Navigation:
The Navigation Buttons directly below the Site Banner provide access to a page listing the EXHIBITS in the Gallery, a page with links to the site ARCHIVES, a page with instructions on how to PURCHASE prints, a page with NEWS and views, a page with information ABOUT the artist and the site, and a page with LINKS to related or interesting sites. The Site Banner at the top of each page is also a link back the the current WELCOME PAGE.

This site does not use cookies or other types of visitor tracking.