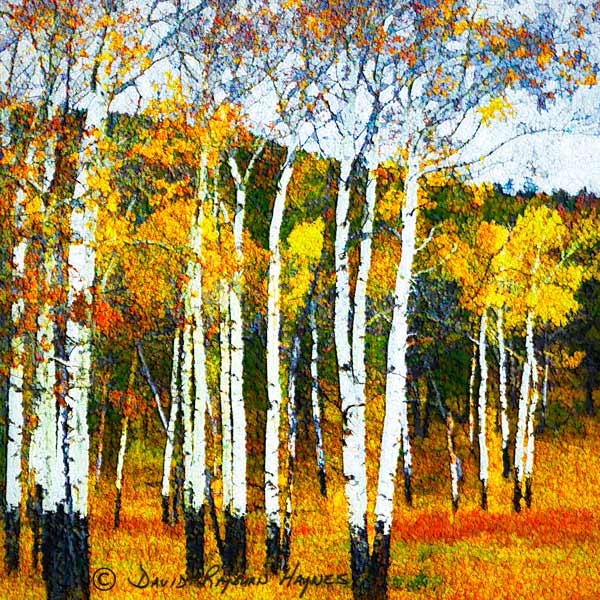 ASPEN STAND FALL COLORS
A painting of a stand of Aspens displaying brilliant fall colors.

Mixed media on canvas, 24" X 24"

A new EXHIBIT titled NOW SHOWING AT WRIGHTS GALLERY contains additional images.
A Note on Image Quality:
To facilitate speedy page loading the images presented on this site have been greatly reduced in size from the originals, with a maximum width of 600 pixels. These reduced resolution images will not display the fine details present in the originals. Some of the images on this site will include a close-up of a portion of the image, providing an example of the fine detail. Instructions on viewing the close-up will accompany these images.
A Note on Site Navigation:
The Navigation Buttons directly below the Site Banner provide access to a page listing the EXHIBITS in the Gallery, a page with links to the site ARCHIVES, a page with instructions on how to PURCHASE prints, a page with NEWS and views, a page with information ABOUT the artist and the site, and a page with LINKS to related or interesting sites. The Site Banner at the top of each page is also a link back the the current WELCOME PAGE.

Links to additional site pages are diplayed in bold red text. Clicking on the Welcome Image opens the current Exhibit.

This site does not use cookies or other types of visitor tracking.
Copyright Notice:
All images on this site are exclusively the property of David Rayburn Haynes and can only be used with express written permission (see Contact Info, below).
Contact Info
Email: drh@drhaynes.com

Address: P.O. Box 732, Gold Beach, OR 97444