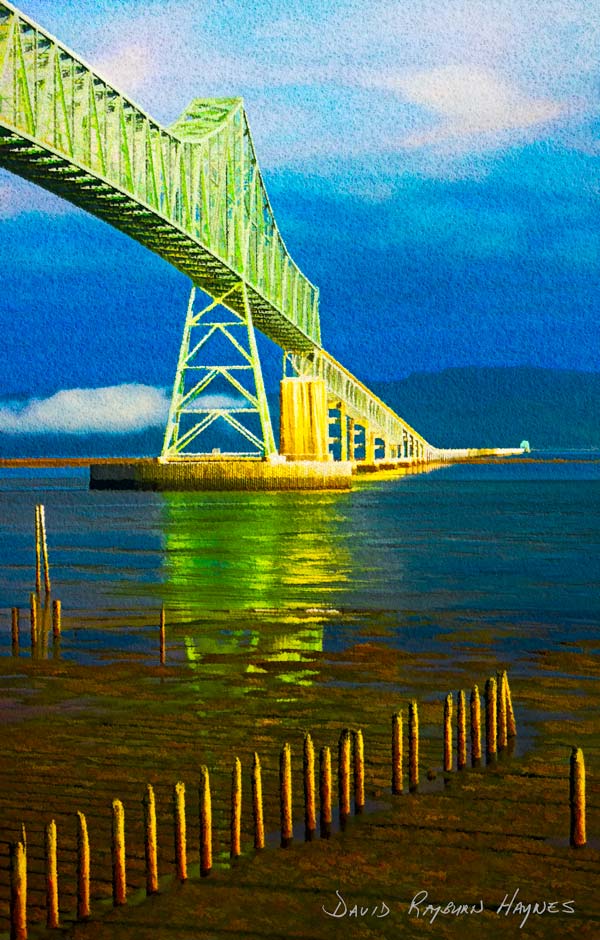 ASTORIA-MEGLER BRIDGE - SUNRISE
The Astoria-Megler Bridge spans the lower Columbia River, between Astoria, Oregon, and Megler, Washington. This painting shows the bridge at sunrise with low tide exposing the old pilings sticking up from the river bottom on the Astoria, Oregon, side of the Columbia River.

Mixed media on canvas
24 inches wide, 37 inches tall

All of the paintings in this Exhibit are based on photographs taken September 6, 2018, through September 9, 2018, while staying in Astoria, Oregon.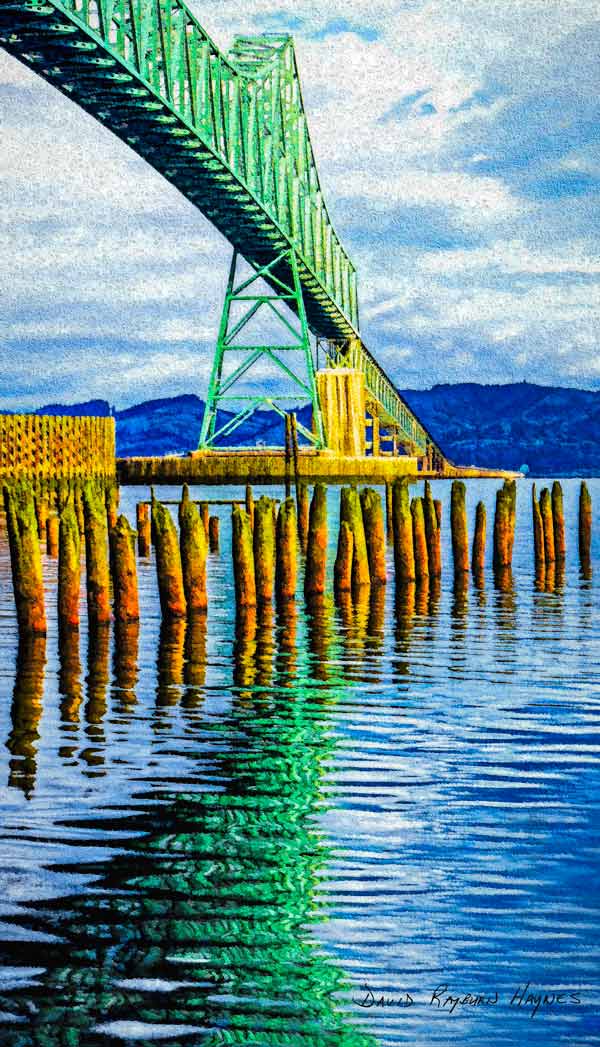 ASTORIA-MEGLER BRIDGE - MID-DAY
Looking up at the Astoria-Megler Bridge. This painting shows the bridge at mid-day with high tide partially obscuring the old pilings sticking up from the river bottom on the Astoria, Oregon, side of the Columbia River.

Mixed media on canvas
24 inches wide, 41 inches tall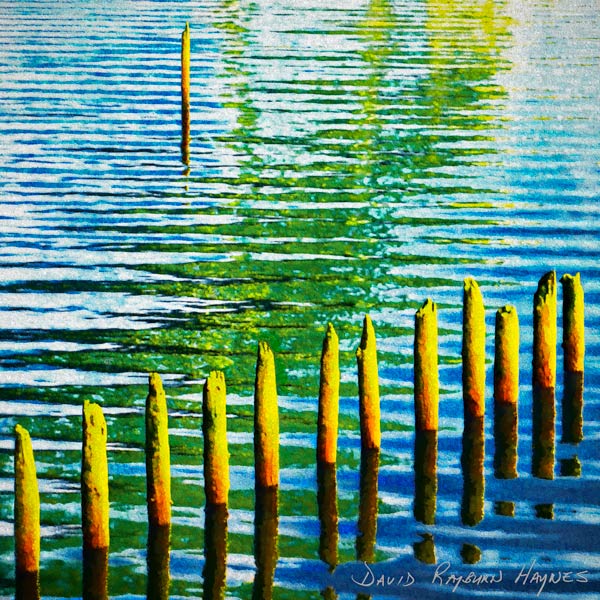 ASTORIA-MEGLER BRIDGE - REFLECTIONS
A reflection of the Astoria-Megler Bridge and some old pilings sticking out of the water on the Astoria, Oregon, side of the Columbia River.

Mixed media on canvas
24 inches wide, 24 inches tall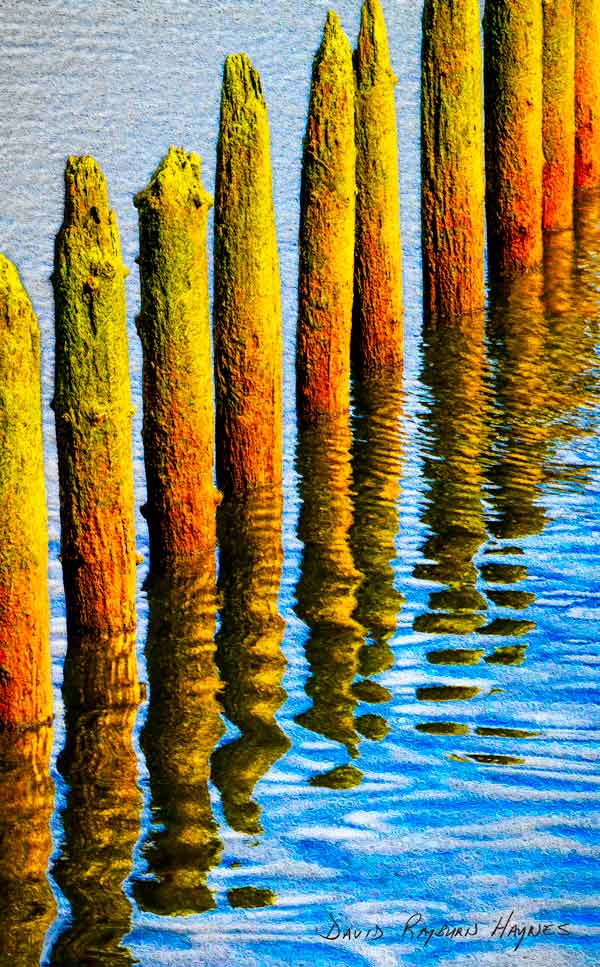 ASTORIA-MEGLER BRIDGE - PILINGS
A closer view of the old pilings sticking out of the water on the Astoria, Oregon, side of the Columbia River.

Mixed media on canvas
24 inches wide, 38 inches tall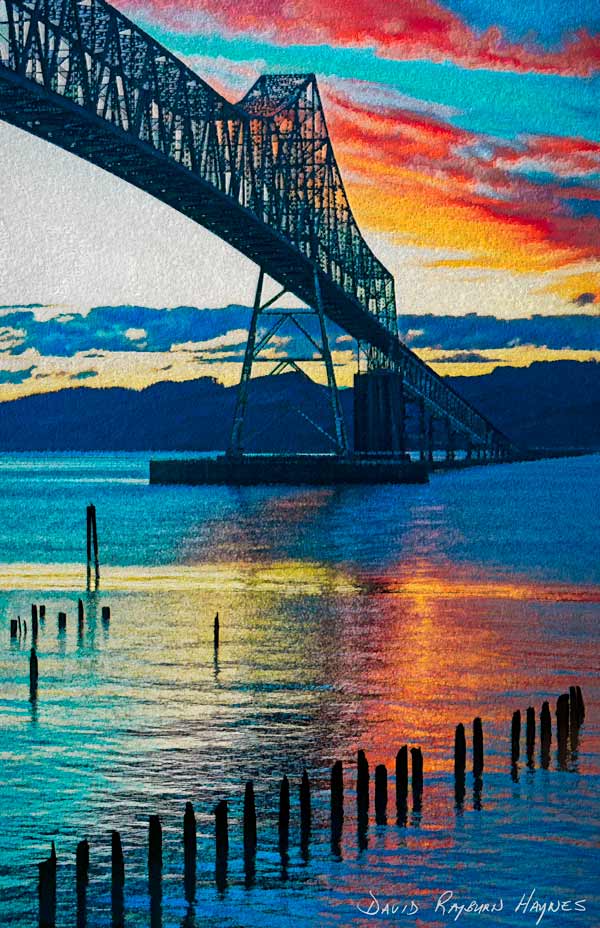 ASTORIA-MEGLER BRIDGE - SUNSET
Looking up at the Astoria-Megler Bridge. This painting shows the bridge at sunset with high tide partially obscuring the old pilings sticking up from the water on the Astoria, Oregon, side of the Columbia River.

Mixed media on canvas
24 inches wide, 37 inches tall

ASTORIA-MEGLER BRIDGE - FREIGHTER
Looking out to sea near the mouth of the Columbia River with a cargo ship heading towards the Astoria-Megler Bridge. This photograph was taken at sunset from the Astoria, Oregon, side of the Columbia River.

Mixed media on canvas
48 inches wide, 17 inches tall